Our Cottage Builder
New Home Builder at Dakota Glen
Some of the finest home builders in Northern Colorado have collaborated to bring this fantastic community to life. These reputable and reliable builders will listen to your ideas and have a stake in your satisfaction – they live and work in Northern Colorado and plan to do so for a long time to come.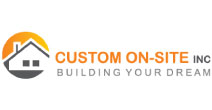 Custom On-Site Builders Inc.
For more than 30 years, Custom On-Site has been providing the highest level of craftsmanship and homeowner satisfaction to Northern Colorado, creating homes of distinction in the unique Rocky Mountain tradition. They have built their reputation one outstanding home at a time, working with well-established local subcontractors and suppliers who provide hands-on attention to detail to ensure every home they build will be an expression of timeless beauty for years to come.
Call Today for a Personal Tour or More Information